Is your Westinghouse fridge not as cold as it used to be or has it broken down? With 25 years' experience in the refrigeration industry and a highly skilled team of local technicians conveniently located throughout the major suburbs in Melbourne, you can be assured of fast, friendly, and efficient service when you call Melbourne Metro Refrigeration!

Common Westinghouse Fridge Problems We Fix:
Fridge leaking water
Fridge or freezer not cold enough
Fridge too cold
Fridge or freezer making strange noises
Strange smells coming from the fridge or freezer
Frozen food defrosting
Milk going off prematurely
Internal formation of ice
No interior light
Door not closing correctly
Why Choose Us?
At Melbourne Metro Refrigeration, we understand how crucial it is to have your Westinghouse refrigerator repaired quickly and effectively. Our technicians are certified by the Australian Refrigeration Council (ARC), ensuring we meet the industry's top standards for training and expertise. You can trust us to accurately diagnose and repair your Westinghouse fridge to the highest quality. When you choose us, you're selecting an accredited team of professionals dedicated to delivering the best service for your Westinghouse fridge.
Our service includes:
Same-Day Service

We understand that a malfunctioning fridge isn't just an inconvenience but also a cause of food waste, which is bad for both your pocket and the environment. It's why we ensure same-day service for speedy and efficient repairs, with availability from as early as 7.00 am.

No Call-Out Fee & Seniors' Discount

In addition to being contactable 24/7, we don't charge a call-out fee and also offer preferential rates for pensioners and senior citizens in Melbourne.

Original, High-Quality Parts

Our vans are equipped with original, high-quality Westinghouse parts and the necessary repair and servicing equipment to ensure that we have everything we need to get the job done on the spot.

Competitive Prices

We charge competitive prices considering our high-quality standards and reliable servicing. Get in touch to find out more about our charges and services.

Fridge Repair Service Throughout Melbourne

With a strategically based team of fully trained and highly experienced Westinghouse technicians across major suburbs in Melbourne, we are accessible wherever you are in the city. Refer to our list of service areas for details.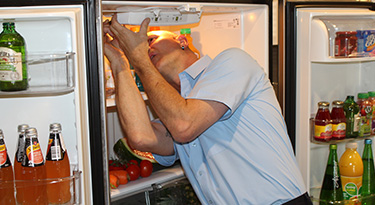 Contact Our Experts Today
For reliable Westinghouse fridge repairs anywhere across Melbourne, simply give us a call today on 1300 13 97 97 or 0425 840 666. Online bookings can be made 24/7 via the form below: